Hospital & CHC Pharmacy
Rx30 provides robust pharmacy management solutions for hospital and community health center pharmacies to improve efficiency and increase revenue.
Hospital Pharmacy Management System
From bedside delivery of medications, to dispensing specialty medications, to discharge patients, hospital pharmacies have to serve their patients in a variety of ways. Overall, outpatient hospital pharmacies are working to help reduce re-admissions and improve patient satisfaction for the health system. Rx30 offers the tools and needed integrations that your pharmacy needs to efficiently and effectively care for your patients.
Pharmacy Management
Rx30 provides your independent pharmacy a total turnkey solution with:
Prescription filling
Workflow management
Vendor interfaces
Inventory & IV module
Accounts receivable
Point of Sale
Complete your pharmacy workflow journey with integrated point of sale.
IIAS compliant for processing FSA/HSA cards
PCI compliant
Electronic signature capture
Integrated reports
Central Site
Independent and connected, built-in full management capabilities include:
Central data & store data
Central fill & transfers
Comprehensive reporting
Central reconciliation
Management tools
Trust the Leader In Outpatient Hospital & CHC Pharmacy
The features and capabilities your hospital pharmacy needs are built into Rx30 pharmacy management system. You do not have to piece together multiple products or solutions in order to effectively care for your patients. Rx30 provides complete solutions for your hospital outpatient pharmacy, including:
Integration with Admission Discharge Transfer (ADT) system
Searchable medical record number
Multiple virtual inventories (340b, Own Use, Retail, etc.)
Time sensitive workflow
Specific employee role-based queues
Streamline e-scripts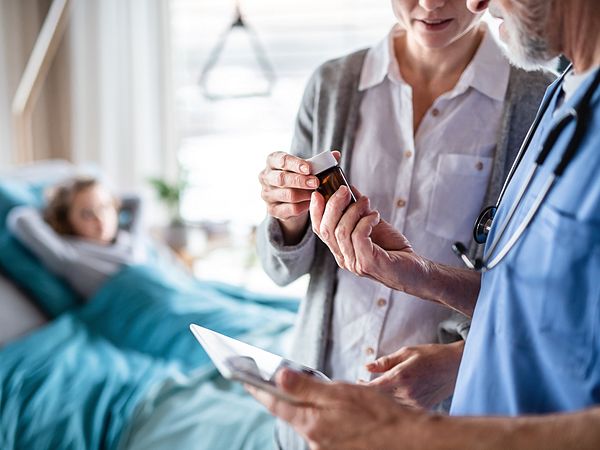 Interested in learning why Rx30 is the leader in pharmacy solutions?
Our team is dedicated to the community pharmacy industry. Let us show you the difference a true partner can make.